PRIVATE/PUBLIC COMPANIES
Both private and public companies are legal entities. They possess capital that is distributed in the form of shares. In principle, directors are not jointly and severally liable. There are many private companies in the Netherlands in particular. Along with the many legal similarities, there are also a large number of differences.
SIMILARITIES AND DIFFERENCES BETWEEN PRIVATE AND PUBLIC COMPANIES
The most important difference between private and public companies is that the shares in a private company are generally not transferable. A private company's statutes may contain share transfer restrictions. This means that when shares are to be sold, these must first be offered to the other shareholders. Up until the Flex BV Act entered into force on 1 October 2012, this arrangement was mandatory for private companies. Public companies are subject to no such compulsory restriction. Furthermore, a notarial deed is always required for the transfer of a private company's shares, whereas a public company's shares are freely transferable in principle. You can find more information about the transfer of shares here.
The setting up of a private company is done by notarial deed. The procedure is as follows:
1. Engaging a civil-law notary:
The civil-law notary provides advice and guidance on setting up the private company. He or she draws up a memorandum of association, which includes the company's articles of association, and ensures that this meets the legal requirements. The civil-law notary bears responsibility for checking this.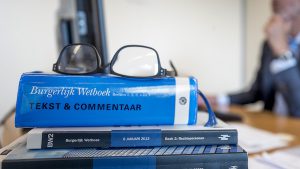 2. Deposit on the shares:
Because the private company has a share capital, the amount – to be determined by you – must be specified in the founding act.
In addition, the way in which the share capital is to be paid up must be established. This can be done in two ways:
In cash: since 1 October 2012 there is no longer a bank statement required for this.
In kind: for example, by contributing part or all of a company, shares or goods. A description is necessary for this method of contribution, which must include the value of the contribution. Since 1 October 2012, an accountant's statement is no longer required for this.
3. Memorandum of association
Once steps 1 and 2 have been completed, the founders can sign the memorandum of association, and the company is 'born'.
4. Registration at the Chamber of Commerce
TRIP Notarissen arranges the registration of the private company and the first director(s) with the Chamber of Commerce. Among other things, registration is necessary in order to prevent directors' liability.
If you have any queries about setting up a private or public company, please contact TRIP Notarissen. Our specialists are happy to assist!